Enter to win contests and 98 Rock's official contest rules are below.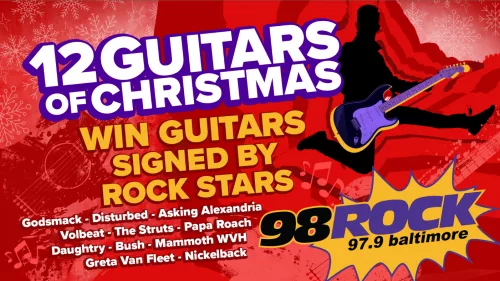 98 ROCK is wishing you a "Merry AXE-mas" with the 12 Guitars of Christmas! Starting Tuesday, Amelia is giving away artist-autographed guitars for 12 weekdays in a row. You could win one of our guitars signed by
Read More »
——
The following constitutes Basic Contest Rules for any/all WIYY-FM contests, both on and off-air, or on the contesting of the WIYY-FM web site. Each contest may have its own special restrictions or qualifications, in which case an addendum to these rules will be included.
All WIYY-FM contests are open to any/all WIYY-FM listener's eighteen (18) years of age or older, unless otherwise specified by WIYY-FM or its affiliate
All sweepstakes/contests staged by WIYY-FM are open to U.S. residents that reside in the Baltimore Designated Market Area only.
Odds of winning a prize from WIYY-FM will depend on the number of qualified entries.
All contest entries become the sole property of WIYY-FM. Furthermore, WIYY-FM may withhold any contest materials crucial to the completion of the contest.
Only one winner or qualifier per family/household will be allowed. Winners of a past contest within the past fifteen (15) days are not eligible. Winners are not eligible to win the same prize multiple times. The decision of WIYY-FM is final.
All contestants acknowledge as a condition of entry, that WIYY-FM has a right to publicize or broadcast the winner's name, character, likeness, voice, or all matters incidental herein.
All prizes are non-transferable and void where prohibited by law. No cash substitution of prizes allowed.
Winners understand and agree that they are responsible for any and all taxes incurred on prizes received within the year of winning.
If required by WIYY-FM or its affiliates, winners must sign a liability release prior to receiving their prize.
If eligible, prizes will be mailed either first, second, or third class U.S. Mail at the discretion of WIYY-FM. If the prize is to be mailed, it is the responsibility of the winners to provide WIYY-FM with a current and correct mailing address. WIYY-FM is not responsible for, nor obligated to replace, any lost, stolen, or damaged prize sent through the U.S. Mail.
If the winner is instructed by WIYY-FM or its affiliates to personally pick up their prize, it must be claimed within thirty (30) calendar days of the instructed date. Upon pick-up of prize, proper picture identification (i.e. valid driver's license, passport) from the winner is required.
WIYY-FM will not notify winners of the time remaining on their prize. It is the responsibility of the winner to claim the prize within the thirty- (30) day timeframe. All unclaimed prizes after thirty (30) days will automatically be forfeited. WIYY-FM is at liberty to give away any unclaimed prize at the end of the thirty- (30) day grace period.
Under "unique circumstances", a representative designated by the winner will be allowed to accept the prize for them. Written authorization from the winner including representative's name, ID, and a photocopy of the winner's valid driver's license is required. WIYY-FM will qualify what constitutes a "unique circumstance."
In the event that a winner voluntarily chooses to not accept a prize, he/she automatically forfeits all claims to that prize. WIYY-FM then has the right, but not the obligation, to award that prize to a contest runner-up.
WIYY-FM may substitute another prize of equal value, in the event of non-availability of a prize.
WIYY-FM is not responsible for any defective prizes.
In the case of a dispute over telephone lines, Freeloader or a text submission, the decision of WIYY-FM is final.
In the event that two telephone lines are tied together during a phone contest, the entire phone call will be disqualified and another phone call will be taken. WIYY-FM cannot award duplicate prizes to both parties in a "tied together" situation. An example of a "tied together" call may be two telephone calls originating from the same location or residence or a party line.
Employees of WIYY-FM, Hearst Corporation, Hearst-Argyle, its advertising agencies, their affiliates, representatives, and their families or households are ineligible to enter/win any contest staged on WIYY-FM.
WIYY-FM, its agencies, affiliates, sponsors or representatives absolve themselves of any liability, financial or otherwise, resulting from any on or off-air contests staged by WIYY-FM.
Text entries – Mobile phone entrants will be charged standard text messaging rates for text messages sent & received.
NO PURCHASE NECESSARY TO ENTER TO WIN: To receive additional Sweepstakes entries hand print your name, address and email address (if any) on a 3″ x 5″ piece of paper.  Mail it with proper postage to 98 ROCK: 3800 Hooper Avenue, Baltimore, Maryland 21211. You will receive one (1) entry into the Sweepstakes. Limit: One (1) per envelope. All mail-in entries must be handwritten. All mail-in entries must be postmarked by the contest end date and received by 5 days after the postmark date. All entries become the exclusive property of Sponsor, and none will be acknowledged or returned. Proof of sending or submission will not be deemed to be proof of receipt by Sponsor. Sponsor is not responsible for lost, late, incomplete, invalid, unintelligible, illegible, misdirected or postage-due entries, which will be disqualified. Use of any automated system to participate is prohibited and will result in disqualification.
---
Basic Contest Rules and addenda are available for review during regular business hours at the WIYY-FM offices located at 3800 Hooper Avenue, Baltimore, MD 21211.
A copy of the rules can be requested through the mail by calling (410) 338-6640 or via email at studio@98online.com